Palm OTDR X-60
Palm OTDR X-60 is a very reliable and good performance OTDR, it can measure the optical fiber length, transmission attenuation of optical fiber, attenuation of splice, and failure location, etc accurately. It is widely used in the maintenance, construction and monitoring of cable line.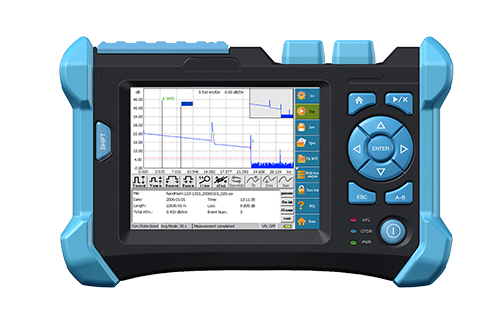 Features
Large touch screen + shortcut keys, easy to operate.
Large-capacity polymer lithium battery, with super long working hours.
Intelligent testing, simple use, powerful function.
Media of Memory card and SD card, with super large storage capacity of traces.
Able to meet FTTx testing needs.
Several wavelengths can be chosen.
Solid casing design, dustproof and shockproof.
Specifications
Wavelength (nm)
850/1300
1310/1550
1310/1490/1550
1310/1550/1625
Dynamic range (dB)
32/30
32/30/30
32/30/30
32/30/28
Pulse width (ns)
5、20、40、80、160、320、640、1280
5、20、40、80、160、320、640、1280、2560、5120、10240、20480
Event blind zone (m)3
3m
Attenuation blind zone (m)3
13m
Linearity (dB/dB)
±0.05 dB/ dB
Loss threshold (dB)
0.05
Loss resolution ratio (dB)
0.01
Sampling resolution ratio (m)
0.125 to 8
Sampling point
32K
Distance uncertainty  (m)
±(1 m + 5×10-5× distance + sampling interval)
Distance scope (km)
0.3 to180
Typical real-time refreshing duration (s)
0.2
Memory capacity of trace
SD Card (4G), > 10000 pieces
Duration of measurement
Defined by user; 5sec, 10sec, 15sec, 30sec, 1min, 2min, and 3min areoptional.
Dimension
150(H)×235(W)×66(D)mm
Weight
1.5kg
Temperature
Running temperature -10℃ to 50℃
Memory temperature -40℃ to 70℃
Relative humidity
0% to 95% (non condensation)
Power supply
Lithium battery; continuing working duration ≥ 8 hours
OpticalInterface
FC/UPC (FC/SC are optional, UPS/APC are optional)
Data interface
USB interface, SD card interface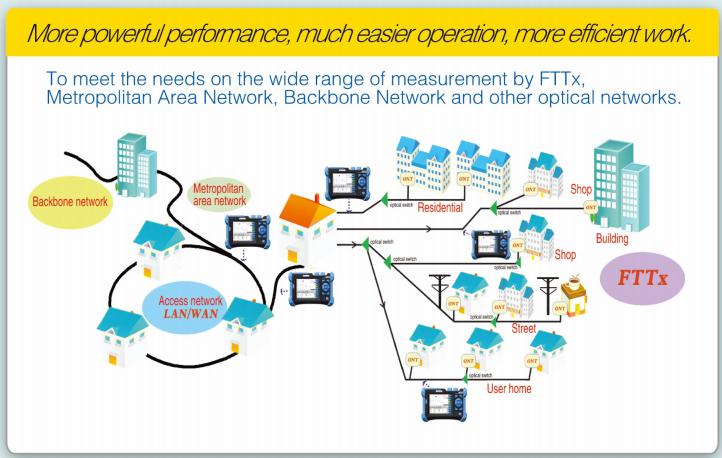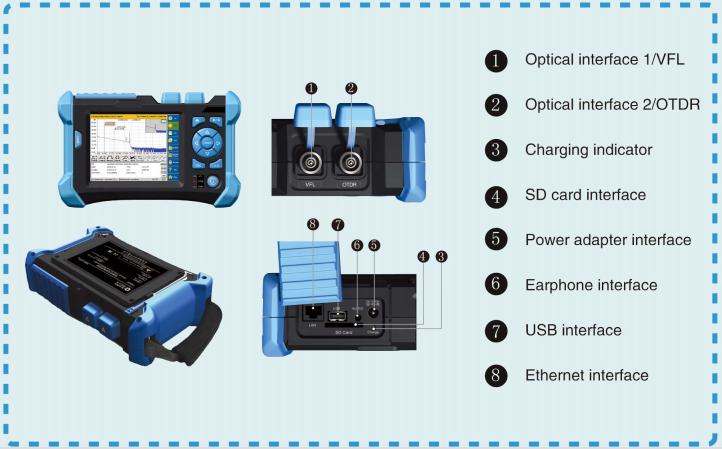 Standard Accessories
| | |
| --- | --- |
| NO. | ITEM |
| 1 | Carrying case |
| 2 | Power adapter |
| 3 | Power cord |
| 4 | Strap |
| 5 | Manual (CD) |